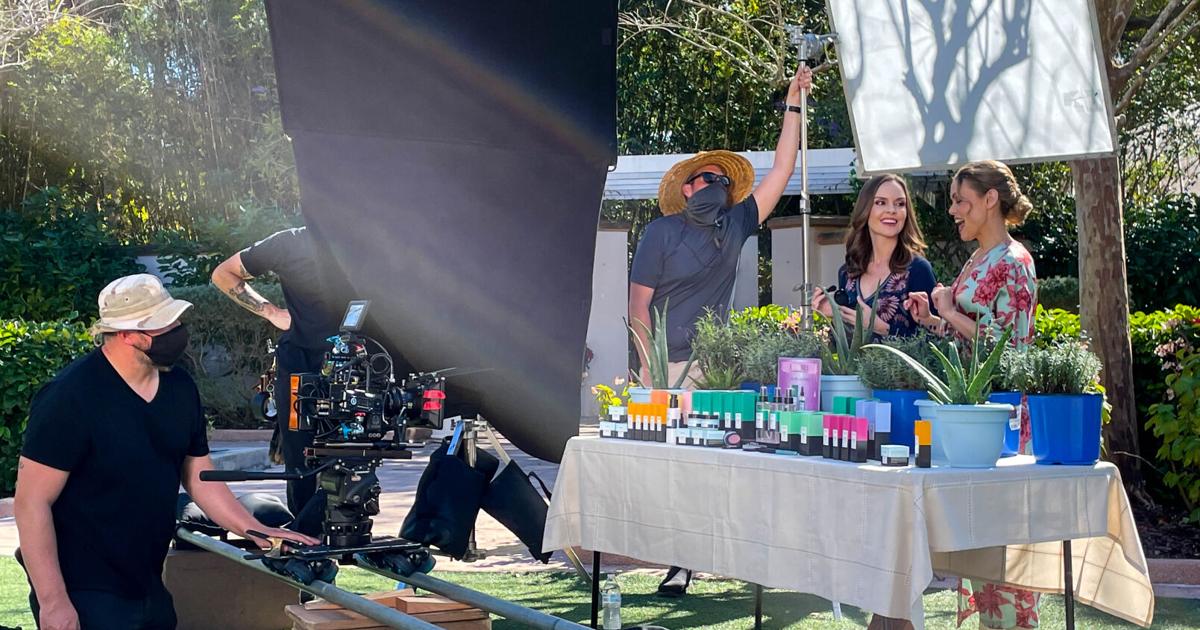 The Lifetime Network team returns, this time to Florida Botanical Gardens | Largo
LARGO — A small slice of Hollywood came to Largo last week, as a Lifetime Network camera crew shot a scene for an upcoming romantic comedy at the Florida Botanical Gardens.
The Feb. 1 shoot was part of the production of "Lean into Love," the fourth in a series of low-budget TV movies emphasizing the integration of local tourism elements. The productions are filmed through a partnership with former Clearwater Marine Aquarium director David Yates, the Visit St. Pete/Clearwater Film Commission and producer Danny Roth.
Filming on February 1 took place at the Ulmerton Road facility's wedding garden on a perfect day after a flurry of low temperatures and high winds, and as the area bustled for hours with the actors, crew members and set workers, many Botanical Gardens guests had no idea what was going on.
"We just stumbled upon it. We had no idea it was here," Roberta Crowl of Bloomington, Minnesota said as she walked the grounds. Her husband, Al, added: "We come here every year because it's such a beautiful place, but we had no idea it was happening today. We just passed very quietly on the side!"
The fact that a Hollywood production was filmed, unnoticed, right under people's noses is an apt metaphor for the current state of the Florida film industry, according to Yates. of all time, "Dolphin Tale", in Pinellas County in 2011.
During a meeting with members of the media, Yates explained how the elimination of statewide incentives a decade ago left Florida's film industry reeling, leading to a mass exodus of 'production crews to other states, including neighboring Georgia, and forcing the likes of Pinellas County Film Commissioner Tony Armer to get creative with coming up with alternative solutions.
"When I left the aquarium two years ago I spoke to Tony and told him that one of my goals was to bring films to the area that you can support," said Yates. Its aim was "to bring good quality films, but also to attract tourism at the same time".
Last fall, Roth's RNR Media shot a scene for his movie "DOA at the PTA" on the nearby SPC-Seminole campus.
Despite the lack of statewide incentives, Yates said there's "not another county in the country, in a state that doesn't have movie incentives, doing more to facilitate filming than Pinellas County". He noted that there are two bills in the state legislature that could go a long way toward restoring Florida's national reputation as a Hollywood-friendly haven. "There's not much you can do locally," he said.
Speaking to several cast and crew members of "Lean into Love," it's easy to see why they love midwinter missions in the Sunshine State.
"The locations are really great, where we can have a real cinematic experience, but also support small businesses," said Brittany Underwood, a veteran TV actress who recently started directing. She said they recently shot a scene at Pier 60 in Clearwater Beach. "Small companies are willing to offer us their location to film there, so we kind of help each other out. I come from a small town in Jersey where my community is my family, so anytime I can help a community I love it.
Ansley Gordon, a longtime TV actress who grew up in Orlando and stars in "Lean into Love," said she was impressed with her first ever shoot in the Tampa Bay area.
"Naturally, it's just beautiful," Gordon said. She added that she "always loved coming here since I was a kid" because "it's so beautiful."
While the brief cold spell threw some cast members into a loop, Gordon said she was ready, bringing a "giant jacket and chunky Ugg boots." Despite the cold snap, she thinks "Florida is finally getting the screen time it deserves."
For Armer, those words were like Grammy-winning soundtrack to his ears.
"My job is to go out and spread the gospel about St. Pete-Clearwater as a great place to make movies," Armer said. The area was recently named as one of the top 25 areas to live and work in the country as a filmmaker by a reputable film magazine. "So to continue to receive these kinds of accolades is something that really helps spread the news and raise awareness of this area as a filming location."