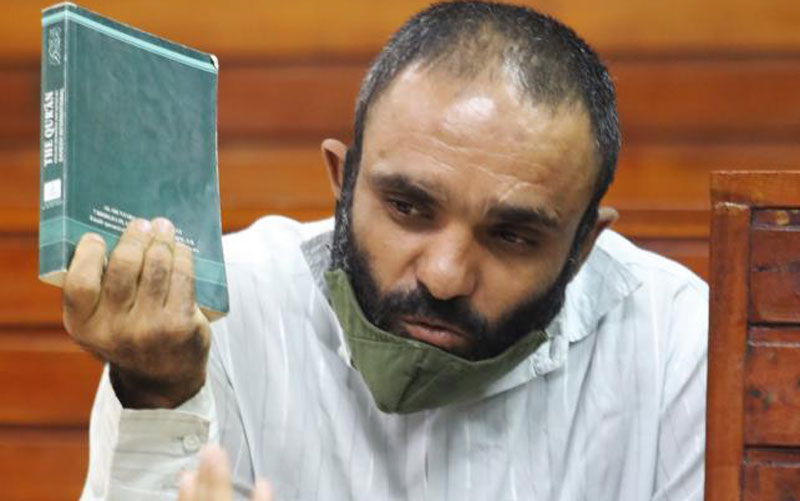 Suspect in Sh1.3b drug case denies hiring ship's crew
A ship's crew member who was charged with smuggling drugs worth 1.3 billion shillings in 2014 has denied recruiting his colleagues into the union.
The vessel, Bushehr Amin Darya, suspected of carrying 377.2kg of heroin, exploded in deep Indian Ocean waters in 2014. Pak Abdolghaffar, charged alongside nine other suspects, denied being an agent recruitment. when he appeared before the Chief Magistrate of Mombasa, Martha Mutuku.
Under cross-examination by prosecution lawyer Alexander Muteti at a defense hearing on Tuesday, Mr Pak denied recruiting the Pakistani nationals who were on board the vessel which is also believed to have been carrying 2 400 liters of diesel mixed with heroin. He told the court he met the Pakistanis the day he boarded the ship. The ship, he said, was due to travel to Dubai and then Somalia and denied knowing the ship's other crew members before the trip.
Pak also denied a prosecution claim that his brother was also an agent involved in recruiting some of the crew members into the smuggling ring. He, however, refused to spell the name of the officer who gave him the job.
"I don't know how to pronounce the name. I met the agent three times. My brother is not an agent and operates his business in Iran," Pak told the court.
Pak said he boarded the ship in Iran and denied another allegation that the ship sailed to Dubai to load the suspect drugs. He said they had sailed to Dubai to load fruit and diesel which they would use on their journey. He also said that they had dropped the Iranian flag and replaced it with Dubai's on its territory.
Pak said he did not know the ship's owner. He also claimed that the ship's name was not known as Al-Noor but Amin Darya. He said he only heard Al-Noor's name after it was mentioned several times in court.
The suspect told the court that they sailed to Somalia where the vessel was refueled and en route to Tanzania they were stopped by a German Navy vessel whose officials searched their vessel. Kenyan naval officers then ferried them into Kenyan waters where, after docking in Mombasa, further research was carried out. The Kenyan officers broke the seals on the "cement" they were carrying.
"When the officers were taking samples of what they claimed to have found in the ship, we were in a van. We weren't there when samples were taken from the ship," Pak told the court.
Another suspect, Mohamed Osman Ahmed, told the court that he was in court because of his communication with a captain called Abdille who was to give him a job as an agent. He had to be named because the ship Amin Darya had no agent. Ahemed said he later turned down the job after failing to get documentation from the ship.