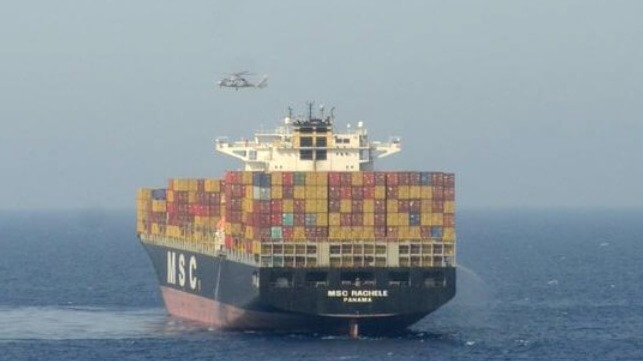 Medevac for three crew members after the explosion of an MSC container ship
French maritime authorities assisted by the French Navy have responded to reports of a fire and explosion on board an MSC container ship sailing in the Mediterranean. They coordinated a medical evacuation from the container ship of three crew members, two of whom are believed to be in serious condition.
Reports of the incident were received at the regional SAR (Cross Med) operations center in Toulon, France at around 9:00 a.m. this morning, June 21. The center coordinated the dispatch of an investigation team and medical assistance to the container ship. They were also assisted by the French amphibious aircraft carrier Thunder who was operating in the area at the time of the accident.
The MSC Rachele A 17-year-old container ship registered in Panama was sailing between Naples and the port of Fos Sur Mer near Marseilles when a fire broke out in the ship's engine room. Reports indicate that the fire was followed by an explosion which injured crew members. The ship was then about 20 miles south of Cape Cepet.
As part of the SAR agency's contingency plan, an assessment team was dispatched to the container ship to determine the condition of the machinery, power, condition of the vessel and its cargo, as well as the consequences of fire and explosion. The first crews on board report that the fire on the 107,466 dwt vessel appears to be under control but the vessel is drifting without power.
[#CommuniquéDePresse] An important rescue device mobilized following an accident on board a container ship off Toulon – CP n°2 – Update at 6:30 p.m. ????https://t.co/ROI3oEcYjL pic.twitter.com/dSWtj6lRev

— Maritime Prefecture of the Mediterranean (@Premarmed) June 21, 2022
The three injured crew members were airlifted by a French Navy helicopter. Two of them, seriously burned, were transferred to the Toulon military hospital and the third is at the city hospital. The vessel has a total crew of 20 people on board.
AFP reports that Cross Med told them that the vessel's engine casing had exploded and caused a fire. The propulsion of the ship would be badly damaged. There are, however, no reports of pollution from the ship.
The weather in the area is good with 16 knots of wind and calm seas. A French support vessel stands by the container ship to provide emergency aid. MSC has hired a commercial tug which is being sent to the ship and the plan is to tow the container ship to Marseilles. As of tonight, the vessel is still reporting its status on its AIS signal as "not under command".
Footage of the ship appears to show it traveling with a partial container load. Its normal capacity is 7,747 TEUs. The current voyage had departed Houston, Texas, in late May, making several stops in Italy before heading to its first port in France.