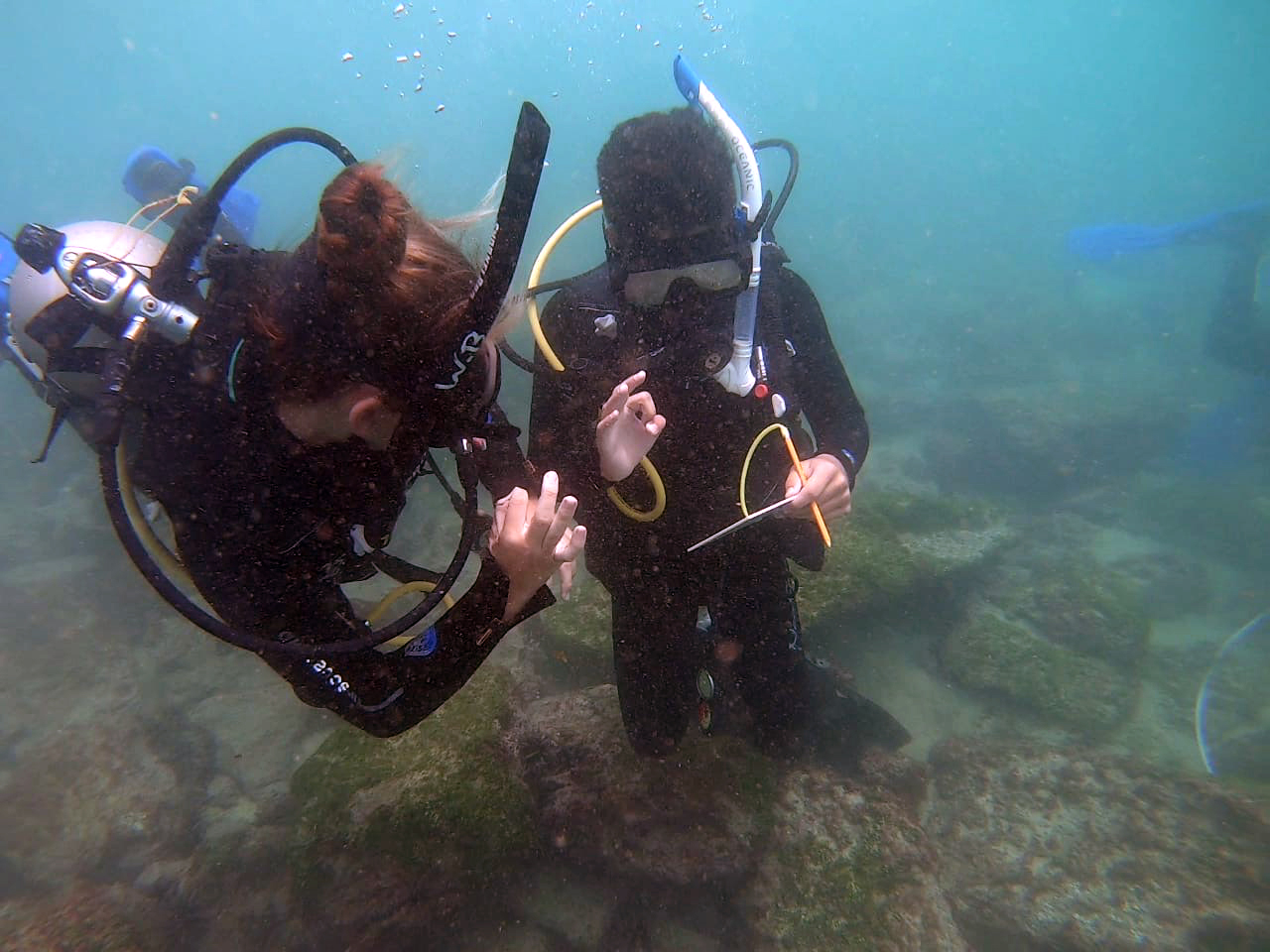 In the Galápagos, an underwater exploration of marine life
The waters around the Galápagos Islands are some of the most unique in the world, known for their exceptional marine life. Yet for a variety of reasons – the cost of learning to scuba dive, for example, or marine reserve protection rules – many locals rarely get a chance to experience these waters and the life they harbor. .
"Local people have to comply with all these regulations, but often they never see the incredible flora and fauna that is right on their doorstep," says Maddie Tilyou, head of the Alliance's laboratory for education and Galapagos Research (GERA), an initiative co-led by Penn researcher Michael Weisberg.
Ivan Lopez, a local scuba instructor and naturalist guide, had tried to change that dynamic by offering free scuba diving lessons to local college kids. In 2019, he partnered with Weisberg, Tilyou and others to combine his training program with the underwater exploration arm of GERA's Community Science Initiative, called Projecto Laboratorio para Apreciar la Vida y el Ambiente or Project LAVA.
Through LAVA-Tue, Lopez's divers are helping the research team understand how humans are affecting sea creatures in protected versus municipal waters on San Cristóbal, the easternmost island in the Galápagos. On more than a dozen trips, pairs of student divers – led by Lopez, Tilyou and LAVA –Tue project leader Olivia Fielding – recorded each animal spotted along a 30 meter transect line.
So far, in the waters of the bay closest to shore, the team has counted mostly sea urchins and sea cucumbers, along with a few starfish and turtles. As they traveled further to the renowned Kicker Rock dive site, the marine life changed dramatically. "There's a lot less pollution and human traffic and a lot more benthic cover," says Fielding, a climate change researcher at Perry World House and a recent Penn graduate. "Benthic cover means how healthy an area is."
Although the pandemic took the training out of the water and moved it online, in recent months Weisberg and his colleagues have returned to in-person work in earnest. They traveled to Galapagos last summer and did a dive with the students. They are also working with Penn marine biologist Katie Barott and locals to create a water health index, to better facilitate comparison between sites. And they plan to return to the islands throughout 2022, if it's safe for all parties involved.
"Science is important," says Weisberg, professor emeritus to President Bess W. Heyman and chair of the philosophy department. "But even more important is working with the community on conservation research and practice. Science is not just a tool that foreigners use to come and extract knowledge. »
"Social Ecology"
The Galápagos Education and Research Alliance, co-led by Weisberg, Deena Weisberg de Villanova and Galápagos naturalist guide Ernesto Vaca, has worked in and around the town of Puerto Baquerizo Moreno on San Cristóbal for seven years. The LAVA project is one of the few initiatives of GERA.
Previous work in this area included LAVA-Lobo, which studies the impact of human presence on endangered sea lions. In the future, LAVA-Water will focus on the domestic water supply of San Cristóbal; WASH-agro, on the effect of invasive plants and animals; and LAVA-astro, on the night sky, in collaboration with the International Dark-Sky Association.
All this work is done in collaboration with the inhabitants. "The holistic approach we take is called social ecology. When we do research or conservation practice, we center the involvement of local people," says Weisberg. "Just like the sea lion project worked with students, here we work with a different group of students."
Currently, 10 Galapagaños between the ages of 11 and 16 are involved in LAVA-Tue. Fielding and Tilyou, who helped set up the project in 2019, worked with Weisberg and Lopez to create the scientific protocol that students now use on every dive. It was an evolution, says Tilyou. "It was really cool to see these students progress in their training. More than half are now rescue divers.
lead the science
The goal of this project is to study how people affect marine life. Since most of the participants didn't even know how to dive at first, Tilyou and Fielding understood that the protocol had to be simple and straightforward.
So they found this: the students team up, one with a GoPro camera, the other a slate and a pencil that can be used underwater. Swimming above a 30-meter transect line manned by two adults – usually Lopez and one of his assistants – they record and count any species they see within a meter of the line. Prior to the first dive, students received training on the most common animals they would likely encounter.
"That's the science part," which usually takes about 10 to 15 minutes each time, Tilyou says. "Because they usually have air left in their tanks, they then go on a treasure hunt and take pictures." At the end, they choose their favorite image to share. "Items like this will become more important as they go along," Fielding says, "to make sure they don't just go out and count the urchins."
She and Tilyou are also working with Weisberg to make the collected data more scientifically viable. This is where the expertise of Barott, who studies the biology and ecology of coral systems, comes in. "We're working with Katie to create a health index," Weisberg says. "We want to be able to turn what students see into something we can compare from site to site."
This will lead to a much-needed baseline measurement, Tilyou adds. "Getting this data is really important, especially in the face of factors like climate change. If we don't have a reference, it will be very difficult to assess later what we have lost.
marine stewardship
Lava-Tue The team has been collecting data since 2019. Now they need to figure out how to analyze it and what comes next. The local group will undoubtedly do more dives, even though the Penn and Villanova teams cannot physically travel to Galapagos.
Researchers are also working to gain support for dives that will take participants away from shore. "Going beyond the bay has always been the goal, but it requires more funding and logistics," Fielding says. "We need comparative data from less disturbed areas to really understand what data we have."
And yet, even in the bay, even in freezing waters and knowing that they will most likely see sea urchins and maybe nothing else, participants are still enthusiastic. Tilyou says she sees this as a sign that they are beginning to take ownership of the process, becoming stewards of the marine environment in their backyard.
"Because it's such an amazing space scientifically, scientists have always been there, but traditionally in a pretty exploitative way," says Tilyou. "We ask this population to be guardians of a truly fragile marine ecosystem and yet they don't know what they are protecting. The root of this project is to make science more democratic in the way it is conducted.
One dive at a time, one sea urchin at a time, this underwater exploration expands understanding of precisely how humans are altering the waters around the Galápagos Islands and the benthic creatures below.
Olivia Fielding is a Perry World House researcher on climate change and project manager for the Galapagos Education and Research Alliance. She graduated from Penn in 2021 with a double major in eenvironmental science and Ppolitical science.
Maddie Tilyou is a laboratory manager for the Galapagos Education and Research Alliance. She graduated from Penn in 2019 with a major in bology with a concentration in Ecology and Evolutionary Biology and a minor in eenvironmental science.
Michael Weisberg is Professor Emeritus to President Bess W. Heyman and Chairman of the Department of Philosophy in the School of Arts and Sciences to University of Pennsylvania. He co-directed the Galapagos Education and Research Alliance since 2017. He is also a Principal Investigator and Director of Postgraduate Programs at Perry World House.