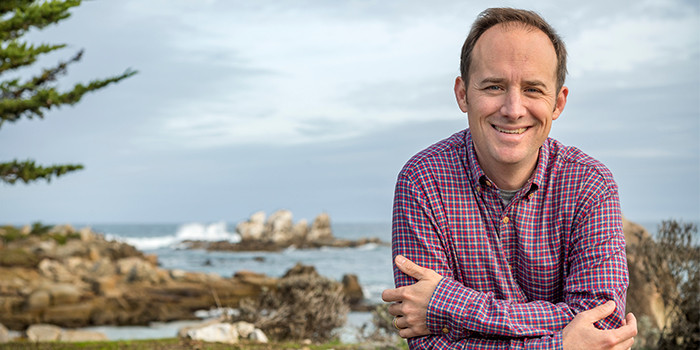 Dr. Kyle Van Houtan appointed President and CEO of Loggerhead Marine Life Center in Juno Beach | InFlorida News
"Kyle has contributed so much to the Monterey Bay Aquarium during his tenure," said Julie Packard, Executive Director of the Monterey Bay Aquarium. "He is an outstanding science communicator and has brought new approaches to our research that have increased the impact and reputation of aquarium science. He brings real vision to ocean science, and we wish him all the best in his new endeavors. "
"I am really touched and delighted to join LMC," said Van Houtan, CEO of LMC. "More than ever, public institutions have a critical responsibility to use science to understand and protect our ocean. In addition to inspiring us all, sea turtles are great sentinels of the health of the oceans. Along with our fantastic team of educators, researchers and veterinarians, I look forward to serving as an authoritative spokesperson for what these amazing species are saying. "
Van Houtan moved from northern California to southern Florida with his wife Kelly and two children. In addition to his profession, he enjoys writing, cooking and being in nature. He looks forward to connecting with the local community and encourages members of the media to come forward in the near future.
For more information or to coordinate an interview, please contact Public Relations and Engagement Specialist Lauren Eissey at [email protected]
Loggerhead Marine Life Center
Loggerhead Marinelife Center (LMC) is a non-profit marine turtle research, rehabilitation and education facility that promotes the conservation of ocean ecosystems with a focus on threatened and endangered sea turtles. The center has an on-site hospital, research lab, educational exhibits, and aquariums, and also operates the Juno Beach Pier, which hosts world-class fishing and tourism activities. Located on one of the world's largest sea turtle nesting beaches, the Loggerhead Marinelife Center is open daily and accommodates over 350,000 people free of charge each year. The Centre's conservation team works with 90 local and international organizations on six continents to form partnerships and share conservation initiatives and best practices that are at the heart of its ocean conservation mission. The Center is growing and has launched its Waves of Progress capital expansion campaign, designed to accelerate and amplify LMC's impact on conservation and education. When complete, the facility will provide one of the most advanced and unique experiences in the world for guests and scientific partners. For more information, visit marinelife.org or call (561) 627-8280.