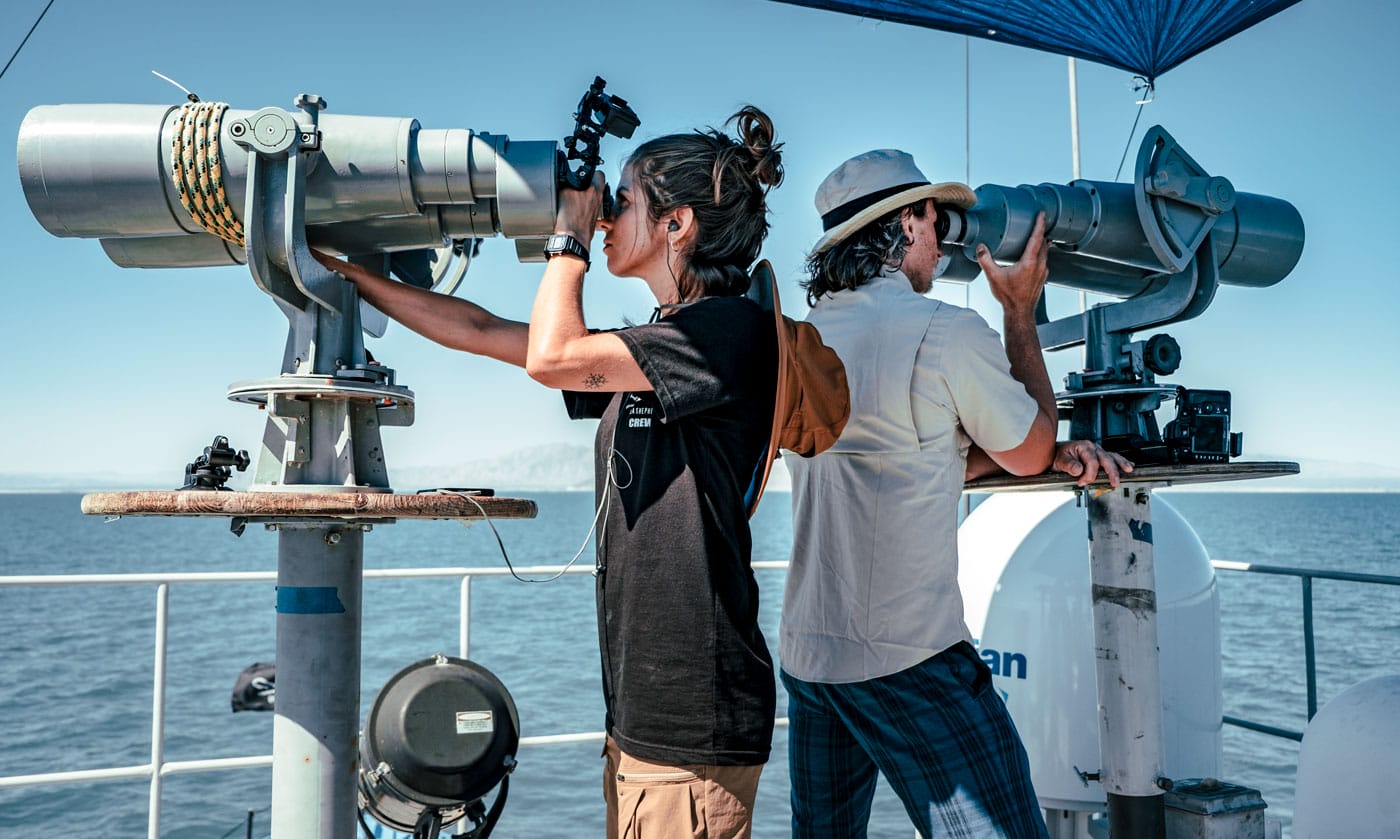 Defend marine life: Sea Shepherd goes from vigilante to scientist
Paul Watson is perhaps one of the most famous conservation activists in history, known for his propensity to act violently in defense of marine life and the oceans. But the vigilant approach it has espoused since the 1970s finally appears to be on its way out, to be replaced by a more restrained form of ocean monitoring, based on scientific research and close cooperation with government maritime authorities. In short, the Sea Shepherd Conservation Society (SSCS)) that he founded is no longer the same.
SSCS now embodies a new kind of activism that sees itself as a service provider, coming to the rescue, filling knowledge gaps where needed, and no longer acting as an overbearing vigilante setting rules by force .
But as Science reports in a recent paper, Can Ancient Pirates Help Scientists Study Troubled Watersthe change was not easy.
Many fishing communities around the world still remember the Sea Sheperd as their enemy, as evidenced by an episode in 2019 where the Mowat, a Sea Shepherd vessel with scientists on board studying the endangered Vaquita sea porpoise, was attacked by local fishing boats.
Enraged fishermen threw stones and Molotov cocktails. The Mowat the crew reacted by spraying them with water hoses but had to give up when a fire broke out on board:
First, to understand the hurdles ahead and the magnitude of change for the Sea Shepherd Conservation Society, it helps to know how Watson operated and what kind of legacy he left behind.
Watson's Legacy: Controversial Sea Shepherd Results
Watson began in the 1970s to withdraw from Greenpeace which he had helped create because, in his view, it was too soft and had become ineffective. He spent the next three decades in epic battles on the seas with his "pirate" fleet – his own ship always sported a strange black flag with a skull and crossbones, he wore a captain's uniform and carried a knife in his belt.
In the name of conservation, Watson had his crews place "net shredders" with steel spikes on the ocean floor to tear up trawl nets, toss smoke bombs at fishing boats and even rub the whale meat with rancid butter. From 1979 to 1994, Watson claims his party sank five whalers and scuttled two more.
In 2010, things took a bad turn. A US federal court called his crew 'pirates' and authorities not only in the United States, but also in Canada, Norway, Costa Rica and Japan have taken legal action against him.
Interpol issued a "red notice" in 2012 declaring Watson an internationally wanted fugitive at the request of Costa Rica and Japan. In the end he was never stopped and now would have lives in Vermont, writing books – even though the United States is a signatory to Interpol cooperation agreements.
At the time, marine life activists were highly critical of Watson's activities, especially Sidney Holtone of the main architects of the first international whaling moratorium this was set up in 1982. He felt Watson's tactic had backfired, boosting pro-whaling sentiment in places like Japan and Iceland.
"[Watson's] getting involved in all of this is an absolute disaster," he said. told the New Yorker in 2007. "Almost everything he has done has impacted those who want to see an end to whaling." And indeed, to this day, Iceland and Norway continue to be exceptions to the international whaling moratorium calling for a pause and they still catch whales for commercial purposes.
In 2014, Watson retired from US-based Sea Shepherd Conservation Society giving way to a new direction – a decision that didn't stop the TV series whale wars who had documented his campaigns around the world creating another (thrilling) episode:
He continued his activities from the Amsterdam-based company Sea Shepherd Globalalways drawing media attention.
2014: The Sea Shepherd undergoes a radical makeover
In this case, 2014 will be a major turning point since the new management team is preparing to completely overhaul the organization. Pritam Singh, a wealthy developer and conservationist, and Roger Payne, a leading expert on whale behavior, had very different ideas when they joined the board of directors of the US-based Sea Shepherd Conservation Society. United.
"In the summer of 2014, we were re-evaluating how best to accomplish our mission of protecting marine wildlife," Singh told the Science journalist. "It required a complete shift in culture and approach."
Then in 2015, something big happened: Sea Shepherd Global Bob Barker— a former whaler painted with shark jaws on the bow — sued an illegal fishing vessel, Thunder, for 110 days and 10,000 nautical miles. Like the New York Times reported, it was an "epic game of cat and mouse". The pursuit, the longest in maritime history, ended with the sinking of the Thunder and the arrest of its captain.
To put the event into context: industrial-scale violations of fishing bans and protected areas are the reason more than half of the world's prime fishing grounds have been depleted and according to some estimates more than 90 percent of large ocean fish like marlin, tuna and swordfish are gone.
Unsurprisingly, a U.S. Navy report later called him a "game changer" for the Sea Shepherd movement, restoring his reputation, moving him from "eco-vigilant to legitimized maritime capacity building".
The current composition of SSCS Board of Directors reflects this new action plan, with Dr. Payne as Director of Science and Dr. Ann Edwards as Director of Conservation. Edwards, Ph.D. in Zoology from the University of Washington, has a long track record as a research field ecologist and conservation program manager, working at NOAA and USAID, among others.
More vessels have been added to the SSCS fleet and a campaign of what Singh calls "radical collaboration" has been launched, signing agreements with a number of Latin American countries to combat poaching and overfishing. And a yacht, the Martin Sheen was exclusively dedicated to research – starting with the Vaquita project mentioned above.
SSCS currently has five ships and will add three more by the end of the summer; early next year he plans to have a dozen, ranging from 24 meters Martin Sheen to a 41-meter ex-Japanese research vessel.
SSCS also recruits researchers from around the world. Early next year, he plans to bring scientists, especially those from less developed countries, to work in parts of the ocean never before covered by research. They will investigate endangered animals, research new species and help collect data on overfishing, including boarding illegal vessels if necessary: ​​the Watson legacy is not entirely forgotten!
In its research activities, the SSCS is much more agile than the research fleets operated by large government organizations like NOAA: it can take up to 5 years to get a grant to get on those boats, and the costs can exceed $100,000 a day on a large research vessel. In contrast, SSCS can send scientists into the field at a fraction of the cost and in much less time.
Currently, the SSCS is engaged in a number of projects around the world, including the Vaquita project which is now coming to fruition with the sea porpoise's chances of survival greatly improved. Other projects include a Amazon Expedition announced in March 2022: The Boto II Expedition, in partnership with Sea Shepherd Brazil and the National Amazon Research Institute (INPA), will map the health of Amazon River dolphin populations over 1,100 km in four areas of the Amazon Basin.
Change comes at the right time. With climate change, overfishing and pollution ravaging marine life and environments, monitoring the oceans has become an increasingly high priority.
Yet marine research in the United States has contracted under pressure from conservatives who cut the federal research budget. The U.S. government science fleet has shrunk by a third over the past 20 years, according to some estimates.
According to Douglas McCauley, a marine ecologist at the University of California, Santa Barbara, many marine biologists and researchers find themselves grounded. "There are a lot of good ocean scientists out there, but they're stuck on land," he said. "We are looking at tough decades for the ocean, and we need everyone on deck."
SSCS could play a key role in this new phase and be a big part of the answer – provided it can complete its turnaround which will require considerable investment and dedication from everyone involved, directors and staff, sailors and scientists.
But the outlook is encouraging. For example, earlier this year, union age covenantled by tech leader and environmental activist Dax Dasilva, pledged $4.5 million to support Sea Shepherd's efforts to combat illegal, unreported and unregulated fishing worldwide.
This donation will fund three years of operating costs for one of Sea Shepherd's most iconic vessels – the 182ft research and survey vessel formerly named sam simon. In recognition of this generous donation, SSCS has decided to rename the vessel: union age.
The name change also reflects the radical shift in SSCS's business philosophy: from solitary struggle to international cooperation.
---
Editor's note: The opinions expressed here by Impakter.com columnists are their own, not those of Impakter.com — Featured photo: Scientists aboard the Sharpie scan for Vaquitas Source: MELISSA ROMAO/SEA SHEPHERD